Flawless Simple Makeup Tips for Every Day Looks
Let's get you looking your best with some simple makeup tips and tricks!
The skills needed to apply makeup vary from basic to very advanced, with only a few of the best makeup artists discovering the best of the best tips and routines.

However, having a framework of solid basic makeup skill is enough to help you create pretty looks on a regular basis.

To help you get started, I am going to share some easy tips for having great makeup as well as a few makeup artist tips and tricks to really bump up your skills.
Foundation Makeup Tips
The largest and most noticeable part about your face is your skin and how it looks. The foundation makes your makeup canvas, so you will want to have a perfect canvas to begin working on. Here enters the liquid vs. powder foundation controversy.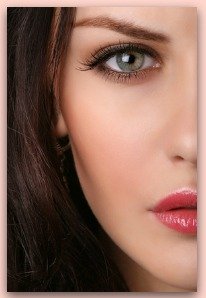 The truth about choosing the right foundation is that you need to look at your skin type.

Do you have oily or dry skin?
Do you have acne or Rosacea to cover?
Is your skin tone uneven?
Do you have aging skin and fine lines you want to hide?

All of these factors are things to keep in mind when choosing a foundation. Those with oily skin tend to do better with powders.

Those who need extra coverage tend to look great with liquids. Powder makes lines more pronounced, but won't cover age spots or acne as well.

So what do you do if you are a combination? It gets a little more complicated at this point, but choosing a few products to use in conjunction, and finding substitutes, is often your best bet.
For example, I have naturally dry skin and am prone to acne. Liquids make me break out and powders make me look flakey and dry.
To solve this, I apply a healthy amount of water based moisturizer to my skin first. After it dries, I use Bare Minerals foundation powder to build coverage and keep my skin clear. It works great! Women with oily skin and wrinkles might use a liquid foundation all over, and then cover with a setting powder to keep back shine.
Lip Color and Eyebrow Makeup Tips
Once you've found the best technique for creating perfect skin, there are a few other simple makeup tips to keep in mind when applying.

If you want to look naturally beautiful, choose a lip color that is just a few shades from your natural lips. You could try a shade of nude, pink, coral, or red that is similar enough, and your pout will look great without seeming too overdone!

It is also a good idea to define your brows. Definition of the stand-out points on your face is one of the keys to having perfect makeup.

Eyes, brows, and lips should appear purposefully defined, yet not too "done". Use a light eye pencil to fill in mostly the inner corners and ever so slightly out onto the arches. Then, use a brow brush to brush them upwards, trim if necessary.

If your lip color just won't seem to go one without looking cakey or clumpy, try this first. One of the best simple makeup tips for your skin and lips is to lightly scrub your lips with your toothbrush, working in small circles on both lips.
Do this for 30 seconds or so, and then use a moisturizing balm.
Your lipstick should now glide on perfectly.
---
Makeup Tips Magazine

> Simple Makeup Tips
---
---