Flawless Makeup Tips
Simple Makeup Tips To Define and Sculpt
Try these flawless makeup tips to create perfect skin, eyes and lips. These simple tips on applying makeup are often used by professional artists and celebrities for a amazing look.

When you see celebrities on the red carpet in magazines, what do you think of?
Aside from their often stunning dresses and great hair, they almost always have a perfect camera-ready face.
Their skin is matte and even, lips look full and dewy, and it is just the perfect combination for their eyes to stand out as the most important part on their face.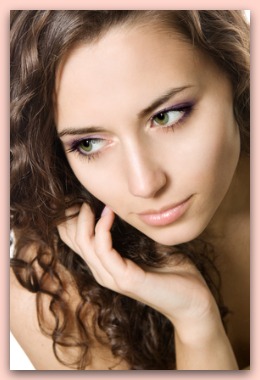 While looking this flawless might not be a priority for every day, it is a very useful thing to be able to do for special occasions.
Dates, weddings, and photo shoots are great times to break out your skills.
Try using these flawless makeup tips as a starting point for creating your own best looks.
The first step to creating a perfect facial canvas is to both exfoliate and moisturize.
This may seem like an obvious step, but it is one no makeup artist leaves out. It can make or break your entire look.
Tips for Flawless Makeup

The next step to fabulous skin is to prime your skin will a facial primer. These silicone based formulas fill in pores and wrinkles and create an overall smooth base for your makeup to sit on. It will also help your makeup stay on longer without rubbing or melting!
Find a thick, creamy concealer that is the same shade as the lightest point on your face.
Dab it on any age spots, pimples, dark areas, and especially on the inside corners of your eyes where the thin skin tends to look blue.
If you are using a liquid foundation, here is a tip straight from professional makeup artists.
Instead of using a sponge or your finger, use a true foundation brush to apply in small downward sweeps all over.
No matter how good our flawless makeup tips are, a Foundation Brush is a must! It essentially looks like an oversized eyeshadow brush, and will make your makeup look more pristine than ever.

Definition is the key to having flawless makeup, so be sure to use a light lip liner to shape your lips before you apply the color.

It is such a simple step, but it also creates such a dramatic difference from simply putting on lipstick.

Just make sure that you stop before the corners of your mouth!
Eyebrow Makeup Tips
Another tip to perfection is to fill in your eyebrows and then brush them upwards.
This will give you an instant face lift. Be sure to fill in your eyebrows more towards the inside and less on the arches to avoid making them look heavy.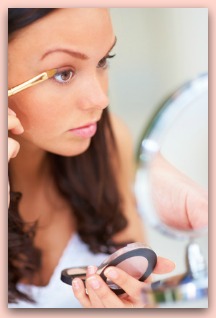 Do just enough to define them, yet keep it natural. Once you've brushed the hairs upwards, trim any overly long tips if necessary.
Want to try a few tips that celebrity makeup artists love using on their clients? Here are a few you may not have heard of.
Once you have applied your lip color, dab a tiny bit of gold lip gloss right onto the center of your lower lip and press your lips together.
Not surprisingly, this light reflecting shiny finish draws attention to the middle of your lips and makes them look much, much fuller.

Your face tends to always have lighter and darker shaded areas, even after your makeup is applied. To look younger and brighter, sweep a small amount of white shimmery eyeshadow on those shaded areas.
This will instantly "wake up" your face perfectly!
---
Makeup Tips Magazine

> Flawless Makeup Tips
---
---