Bold Eye Makeup

How to Wear Super Colorful Makeup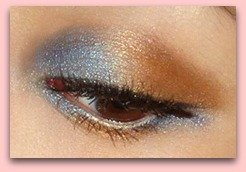 Bold eye makeup is fun for costume parties, consisting of bright eye makeup looks and interesting eyeliner designs.
Bold and bright eye makeup certainly has a proper time and place. It isn't something you would wear everyday or even to a get together with friends.
When the time is right, be prepared with some crazy, fashionable, fun, outright bold eye makeup for the occasion.
This eye makeup look incorporates some brown and gold earth tones, leopard spots, and bright tropical blue shimmery eyeshadow to create the entire look. Be prepared to be blown away, this one is intense!
Eyeshadow Techniques and Eyeliner Styles
Here are the products you will need: black eyeliner, brown liquid eyeliner, pale gold shimmery eyeshadow, bronze shimmery eyeshadow, blue green shimmery eyeshadow, bright cerulean blue eyeshadow, and mascara of choice.
1. Line your lower waterline with black gel liner or eye pencil.
2. Use an eyeshadow brush to sweep the pale gold over your entire eyelid.
3. Sweep a small amount of bronze eyeshadow just beneath your eyebrow to highlight.
4. Sweep the blue green eyeshadow over your entire brow bone and blend outwards.
5. Use your eyeshadow brush to apply the deep shimmery blue over your brow bone as well, focusing more on the center and blending outwards into the blue green shade.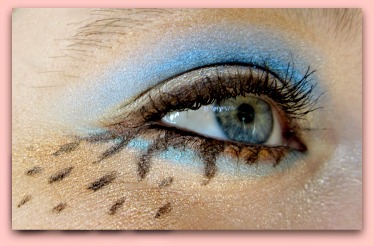 6. Line your lower lashes with the bronze eyeshadow. I found that using a damp angled eyeliner brush works very well for this.
7. Use a clean eyeshadow brush to line the bronze on your lower lashes with your blue green eyeshadow. Sweep this out past the outer corner of your eye.
8. Take a large fluffy brush and apply pale gold shimmery shadow beneath both lower eyeliners, sweeping the color all the way down to the tops of your cheeks.
9. Using that same brush, sweep the bronze color around the bottom corner of your eye where you see the leopard spots in the photo.
10. Take your brown liquid liner and line your upper lashes from corner to corner, flicking it outwards at the end to make a wing.
11. Use that same liquid liner to create 4-5 tiger stripes pointing downwards from your lower lash line.
12. Then, create a handful of leopard spots over the bronzy orange eyeshadow.
13. Top with mascara and clean up any fallen makeup. Your party look is complete!
If you don't get this look right the first time, don't worry.
It is certainly one that will take a little bit of practice before you are ready to go out in the public eye.
If you find it too complicated, use fewer eyeshadow colors and simply stay with the leopard spots and mascara.
It doesn't have to be complete to look fabulous for a costume party. Bold Eye Makeup is great for Halloween too!

---
Makeup Tips Magazine

> Bold Eye Makeup
---
---