Pretty Eye Shadow Ideas

Simple Shimmery Eyeshadow Looks


Get new eye shadow ideas and daily eyeshadow tips with these simple-yet-elegant makeup looks.

On some days, it just seems easier to throw on some mascara and dash out the door. Other times, we find that there is something very relaxing about doing household tasks sans the makeup and sporting just a functional ponytail.

When we notice that this is becoming the norm for us, day after day, it would seem that a lack of eye shadow ideas or general makeup ideas could be the culprit. In this photo tutorial I want to give you two new daily looks to perk up your eyes and spice up your style.
Eye Shadow Ideas

Both of these eyeshadow techniques are easy to master and simple enough for daytime wear. Even better, they go with just about any eye color! Don't be afraid to jump in and test the waters. Switching up your daily style routine is very refreshing once you take a peak in the mirror.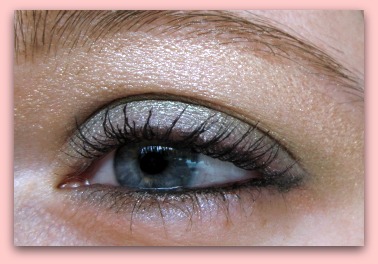 Each of these eye shadow pictures has the same highlighting element. I used a very pale gold shimmery mineral powder to highlight below the eyebrow and just beneath the lower lashes.

This technique lights up your eyes while bringing out their color. It also accents a defined brow and gives deeper colored eyeshadows more depth.

Once you have applied the highlighter, sweep your eyeshadow brush into the olive green eyeshadow and begin dabbing it onto the center of your eyelid.

I used L'Oreal's Golden Sage single shimmer eyeshadow compact in this photo. Blend the green outwards at the edges until the change from green to gold looks natural and there are no obvious lines of color change. Lastly, sweep a light dusting beneath your lower lashes to enhance the color.

Using a damp angled eyeliner brush, pick up some matte black eyeshadow and line your lower waterline. Add a few coats of mascara and your look is finished!
Gold and Pink Eyeshadow

To create this look, start by highlighting your brow bone and beneath your lower lashes. Then, use an eyeshadow brush to pick up some rose gold pigment and apply it all over your eyelid.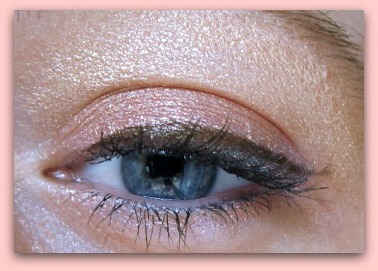 I used L'Oreal's Pink Sapphire single pressed powder in this photo. You can use either a matte or shimmery color to create this look.

After blending the pink eyeshadow into the gold, grab your brown liquid eyeliner and make sure it is primed to deliver a smooth application.

Starting at the inner corner of your eye, line your upper lash line from corner to corner. I like to extend mine ever so slightly past the outer corner of my eye to give a more almond-shaped look.

In this photo I used my Stila liquid brown eyeliner pen. While you can use eyeliner gel with an angled brush, I have found that eyeliner pens give you the most control and usually produce a very smooth line.

After these steps are complete, all you need is mascara and the look is complete. You can always opt to use other shades of liquid eyeliner such as navy, black, or emerald to create new looks and complement your eye color.