Makeup Tips for Older Women
Aging gracefully is easy with these simple makeup tips for older women. Get the best undereye concealer, foundation and highlighter for your skin!
As we get older, makeup tends to be a little more finicky on our skin than it was before. Powders tend to enhance the look of pores and fine lines more, and some eye makeups and lipsticks look too unnatural to wear.
It seems that during this time there are a few extremes, and you'll be darned if you ever follow one of them! You don't want to simply give up makeup completely, while looking drab and frumpy each day.
On the other hand, you snicker at the older women who dress like teenagers and wear accompanying makeup and hair Bump-Its to boot!
The happy medium is to age gracefully, using makeup as a tool to enhance your naturally lovely eyes and skin. The way to do this?
A few makeup tricks to give you younger skin and by basing your makeup around the natural colors of your skin and lips will do this. Let me show you how.
Older Does Not Mean Less Beautiful

The top makeup tips for older women will always, always, always begin with moisturizing your face. Skin acts like a sponge. A dry sponge will always look wrinkly and flakey, and a wet sponge will always look smooth and supple. Moisturize at night and before you put your makeup on- it will work a small wonder just on its own.
Once your moisturizer has set, use a primer over your face and neck to fill in pores and lines. I have two primers that I love.
One is by Mary Kay, the other is the Benefit Porefessional Pro Balm which is quite a bit thicker. I have found that the Mary Kay works well overall on my face, while the pro balm is best at filling in small areas that need extra attention.
Smashbox and Make Up For Ever also have some amazing primer products that makeup artists themselves use regularly.
The next step is to find a cream concealer that is an exact or slightly lighter match for your skin. Dab this under your eyes, your nose, and on any age spots you might have.
These areas are very important to looking youthful, so you always want to make them appear ever so slightly lighter than other areas of your face.
Foundations are Important

Some great foundation tips for older women can really bring out the youth you feel within, so naturally; the next step is to choose a foundation that will complement you.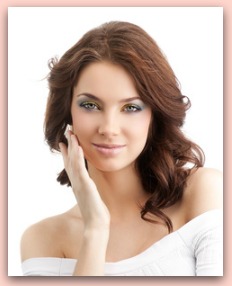 Liquid and creme-to-powder foundations are definitely the best options for aging skin. Powder almost always tends to make the skin look dryer.
Use a damp sponge to apply the foundation, starting at the center oval of your face and sweeping outwards.
If you feel like you have some experience with makeup, choose a liquid foundation that is slightly lighter than your natural skin color, and then use a natural bronzer like Bare Minerals All Over color to very lightly build the color back up.
Don't forget your neck as well! It is important to get a proper color match. If you go too dark, you risk making your skin appear older. This is a great technique for making your skin look young and smooth.
Anti Aging Makeup tips for Older Women

Anti-Aging Makeup is not just for 'young ladies' who are trying to retain that youthful skin, a lady who has matured further in life can still gain a great deal by choosing an anti aging makeup product such as a retinol foundation. Look for one that has at least 0.1% retinol in the ingredients.
If you don't see a number displayed, just make sure that retinol is in the top few active ingredients. This type of makeup probably won't revolutionize your skin overnight, but it can certainly help in the long run. Combined with your nightly anti aging cream, your skin's appearance can benefit a lot.
The last step is to apply a liquid highlighter on your face to reflect light and give you a dewy glow. I use Mary Kay's face illuminator tube and I think it looks great.
There are many brands out there, so do some simple testing if you can before you buy. It is usually best to avoid highlighting powder unless you have oily skin that could benefit from a little powder after the liquid foundation.
---
Makeup Tips Magazine

> Makeup Tips For Older Women
---
---