How to Wear Red Eyeshadow

Eyeshadow Techniques for Unusual Colors


Ready to step outside your comfort zone? Take a peek at these red eyeshadow photo tutorials and learn how to apply red shadow eye makeup easily.

Red eye shadow is one of those tricky colors that many are curious about and few ever actually end up wearing. Red looks great for Halloween vampires, witches, and even mermaids, but it is often passed over for the daily makeup routine.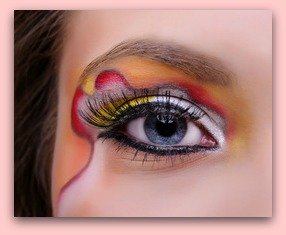 So why do we avoid red eyeshadow so fervently? First, red eye shadow has a tendency to bring out the pink in ones skin in a not-so-flattering way.

Secondly, it is a color that is so often from our eye colors that it tends to look awkward and out of place. Thirdly, it isn't a neutral color that we are used to wearing.

Red is the color in our skin we most try to hide, opting for golds, browns, earth greens and blues to enhance our looks. Red is rarely an earth tone and it is often the most subtle of colors that bring out the most beauty in our own eyes, skin, and hair.

Despite all of this, I am always up for a makeup challenge and wanted to see if I could find a couple of suitable looks with red eyeshadow.
Red Eye Shadow Pictures

I ended up creating two red shadow eye makeup looks; one uses a bright true red, the other a dusty Grand Canyon red rock shade. I don't know if I will ever wear the brighter of the two again, but it made for an interesting experiment!

This first look is quite simple to achieve. You can use just about any shade of red eye pencil or shadow you would like. I chose a brighter, truer red for this tutorial. Line your upper eyelashes with the red from corner to corner.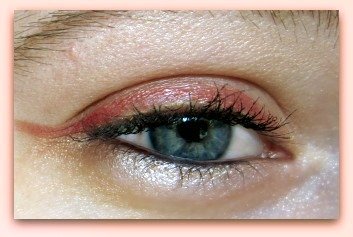 Create a wing at the end to shape your eye and bring out the va-va-voom in your look! I like to use a thick line here that is somewhat smudgy. A thin, sharp line would look too harsh.

Pick up some pale gold shadow on your brush, and sweep it beneath your lower lash line. This will lighten your eyes and contrast the red to soften it.

The last step is to line your waterline with a matte black or brown using a damp angled eyeliner brush. This will add definition to your eye and give you a "finished" look rather than a "crying" look!
A Red Orange Eyeshadow Look

I think that this look is a good look to try during the autumn months when the leaves are turning brown, gold, and red. These eyeshadows are very similar to those colors.

Here I used the same pale gold to highlight my brow bone as well as my lower lashes. This helped to "wake up" my eyes despite the mute brown eyelid.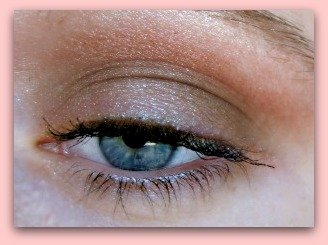 I then used a base ashy brown eyeshadow to cover my eyelid and vive a sophisticated but soft look. This creates a great base for the red because it is so plain vanilla.

Lastly, I used a red-copper shade to highlight right over where your brow bone begins. Adding brighter colors here is a great eye shadow technique because it brightens up your face while still giving you that "au naturel" look around your eyes.

The part I liked about this look is that you could use this style with just about any set of complementary colors. If I were to do it again, I would certainly experiment with greens, blues and perhaps even a purple highlight here and there!