Applying Foundation Makeup
A Makeup Tutorial
Applying foundation makeup flawlessly is something every woman wants to do. Traditional and mineral foundation makeup can give great results, if applied properly with a special brush.
The best under eye concealer, in addition to foundation cosmetics, are another useful item that hides darkness and circles. Keeping spray foundation make up handy is a newer, celeb-esque method.
A good foundation is probably one of the most importantmakeup items a girl can own.

The right color and coverage can give you flawless skin, or make your face look heavy with caked on makeup.

Choosing a foundation with ayellow base is best for most women.

When matching colors, make sure to test the color against your jawline for the closest match. If you want to get the closest and best match for your skin tone, let one of the ladies at the makeup counter help you.

She will be able to determine what amount of yellow and pink you need in your makeup and whether your skin is warm, neutral, or cool.

She can also help you decide on which type of foundation to use for the best look on your skin. Applying foundation makeup in a matching shade will prevent you from looking fake or amateur.
The Best Foundation Make Up
There are three types of foundation you can buy, and each has different qualities for different women.

The first is liquid foundation, which is easily applied and often blends very well into the skin. If you have dry or flaky skin, liquid is probably your best bet.

The second type of foundation is cream, or mousse. This type is becoming more and more popular, and is often used by makeup artists and celebrities because it blends well and has the highest amount of coverage. If you have acne or discolored skin spots, cream foundation will look best on your skin.

The last type of foundation is powder. Women with oily skin will benefit the most from powder, because it will soak up any oil your skin produces throughout the day.

Some powder foundations cover the skin well, especially mineral foundations. However, powders typically don't provide as much coverage as a liquid or cream, so unless you have oily skin it is probably better to choose one of the first two.
Applying the Best Face Foundation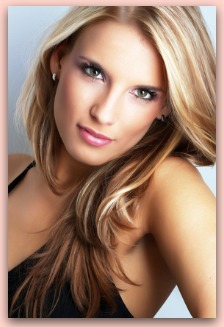 Now that you've decided on the best type of foundation to put on your skin, you need to know how to apply it.

Scratch that, you want to know how to apply it like a true, professional makeup artist! What secrets do they have that we don't know about?

How do runway models and celebrities have such perfectly flawless skin?

Celebrity makeup artists have a variety of tricks they use to achieve the most beautiful and natural looks possible.

One of the best secret methods they use is how they begin applying foundation makeup.

Makeup artists often use a high quality foundation brush for applying foundation makeup in liquid, cream, or powder. True foundation brushes can work wonders on the skin when used to apply a liquid makeup base.

Because of their flat surface and ability to bend and blend, brushes can apply makeup much more evenly than your fingers or a sponge can, and thus create a flawless appearance.

Before you begin applying foundation however, make sure you start with clean skin that has been toned, and then add a moisturizer.

You should wipe off the residue after about ten minutes, especially if you will be using a powder. Dot on any necessary concealer, and then begin with your foundation. This is the basis to a perfect look.
Best Foundation Make Up Techniques
If you are using liquid, start by pouring a small amount into the lid or on the back of your hand, and then dip the brush lightly in it on one side.

If you are using powder or cream, dip the clean brush directly into the container. Then, apply the makeup to your face with long downward strokes from your hairline to your neck, making sure you blend extremely well.

Spending a few extra minutes simply blending thin layers of foundation into your skin will give you beautiful coverage that still looks natural. Don't skimp on time here, and don't try to layer it on thick all at once to get it over with.

Foundation brushes are the celebrity secret to the airbrushed look, and are very handy because they can last for years. However, make sure you take care of your brushes by washing them once per week with baby shampoo. You can also buy brush cleaner at most drugstores.

Taking care of your brushes will keep your makeup from becomingcontaminated, your brushes from wearing out, and acne from being spread all over your skin.

Brushes are also better able to evenly distribute makeup when they are clean. Have fun with your makeup and practice a few times to get the best skin possible when applying foundation makeup.
Return to Makeup Tips Home from Applying Foundation Makeup
---
---