The Best Makeup for Acne
Natural Pigments in Makeup to Cover Acne
Discover the best makeup for acne that can help your skin heal permanently. Finding the healthiest, best foundation for acne is an important step in the healing process.
Being prone to acne can be one of the hardest things to deal with on a day to day basis with your appearance.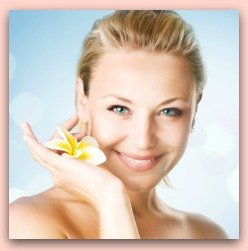 Your face is the most noticeable and scrutinized part of your body, so it is natural to want it to look flawless and clean.

Having had acne for many years, I began to get a pretty good feel for which types of products helped, and which ones made it worse.

If you have acne, it is most often a good idea to avoid products like heavy liquid foundation, fragrances, and thick moisturizing lotions. The best makeup for acne will be light, chemical-free, and contain sunscreen.

For most women with acne, it becomes a vicious cycle with one's foundation at the root of the whole problem. Foundations can easily seep into pores and keep them clogged all day.

To make things worse, foundations are easy breeding grounds for bacteria that get transferred to your skin and quickly begin causing acne.

The cycle continues as women pile on more and more foundation to cover their ever-worsening skin condition, leaving the face unable to heal itself.

Here are some good options for treating your skin while still looking fresh and clear outside of your home.
The Best Moisturizers for Acne

The first thing you should always do is be sure to moisturize your skin and avoid drying soaps.
Oftentimes acne can start because sensitive skin becomes dry and itchy, and then excess oil is produced to counteract it.

Clean & Clear makes a great inexpensive moisturizer that contains salicylic acid to cleanse your pores.

I used this product for many years and found that applying it to clean skin before bedtime worked the best.

When you get home from work, wash your face thoroughly and apply the moisturizer all over.

This will give your skin two thirds of the day to heal itself.

Another great moisturizer that I love is Boots Expert Sensitive Hydrating cream. This moisturizer is extremely lightweight, water-based, and truly has no potential for clogging your pores.

The best part is that it only costs about $5 and can be found at most drugstores. I used this product for years with great success.
The Best Face Makeup for Acne
Once you have gotten used to caring for your skin properly on a regular basis, it is time to switch up your makeup to something that will enhance healing and rejuvenation. Throw out your old makeup right away and purchase something that is new and clean.

If you haven't been living under a rock for the past decade, you may have heard of Bare Escentual's award winning Bare Minerals line.

Their makeup is 100% pure mineral makeup from the earth. It contains no chemicals, dyes, fragrances, or ingredients that aren't minerals.

Thousands of women have successfully cleared their skin permanently using Bare Minerals. Their products are a bit more expensive, but fortunately they do last for quite a while.

True mineral makeup doesn't contain chemicals that will irritate your skin, and their tiny micro particles do a wonderful job of concealing any blemish on your face. Pure earth minerals create the best makeup for acne that is clean and soothing.

You can start layering on their mineral powders in very thin layers to build up just enough coverage for the look you want. Bare Minerals is the best makeup for acne that I have come across, covering your skin completely while still allowing it to heal.
Return to Makeup Tips Home from The Best Makeup for Acne
---
---