Makeup Vanity Furniture
Bedroom Vanity Tables and Mirrors
Selecting and buying the best makeup vanity furniture to create a luminous atmosphere in your bedroom. Lighted make up mirrors and vanity tables add a new dimension to dull rooms.
If you find yourself constantly perching on your bathroom counter or leaning over a desk to apply your eye makeup in the mirror, you probably know how uncomfortable and difficult it can be to get ready every morning.

Vanity makeup furniture pieces are designed to be used as a comfy and spacious area for applying makeup, styling your hair, and examining your apparel before you leave the house. Not only do they make life much simpler, vanity pieces are truly elegant and can add a lot of romance and beauty to your bedroom.
Vanity Make Up Tables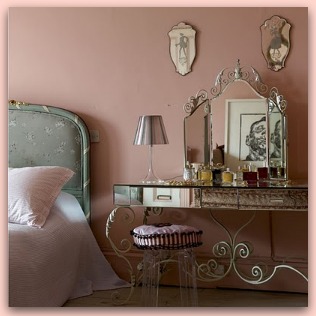 Probably the biggest and most important vanity piece to own in your lifetime is a vanity makeup table.
These antique, historic furniture pieces can be very simple or very ornate, as well as beautiful.
They provide a unique area for getting ready each morning, and are often accompanied by a vanity stool and attached mirror.
In many vanity makeup tables, the mirror is attached to the back end of the table for easy viewing. A matching stool will often come with a higher end vanity table, making a useful and fashionable completed element.

Vanity dressers are also a nice thing to add to your bedroom. They are usually made from wood with a clear gloss or a darker wood finish.
These are great to have because they can hold many folded clothes in a beautiful piece of furniture, as well as provide an area on top for mirrors, makeup, candles, and jewelry.

Dressers are often much larger than vanity makeup tables, so unless you have a very large room you may opt for just one that fits your needs best.
Vanity Makeup Mirrors
Included in must-have makeup vanity furniture are mirrors. Makeup mirrors come in all sorts of shapes and styles, with different magnification adjustments and positioning adjustments.

Some women like to opt for a classic mirror that is either attached or rests on their vanity table. Others find that an adjustable stand-alone or wall mount makeup mirror is easy to use and provides the best visibility.
When you begin looking for a makeup mirror, spend some time looking into a variety of magnifications and lighting capabilities to find one that will work best for you.
You can read more about what type of makeup vanity furniture mirror you need here.

High quality makeup vanity furniture often isn't cheap, so take your time shopping for one that will last for years and is also within your budget.
It is better to save up for a better quality item than quickly buy one that will break, crack, or chip within a year.
A well made vanity table and mirror should be sturdy and well made enough to pass down to your daughter after teaching her everything you know about letting your inner woman out.
---
Makeup Tips Magazine

>

Applying Eye Makeup

> Makeup Vanity Furniture
---
---