Top 5 Best Tips and Techniques on
How To Apply Eyeshadow

Learn how to apply eyeshadow with a beautiful and sophisticated technique. These eye shadow make up tips will keep your face bright, clear, and pretty all day long.
The Most Natural Eye Makeup Looks and How to Achieve Them
Learning how to apply eyeshadow for the best look possible is an art. It can take years to learn and, unfortunately, some women never learn how to get it quite right.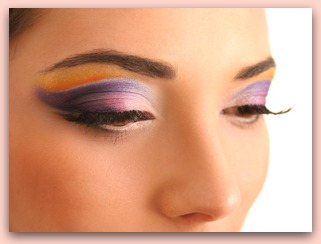 Some wear colors that look bad against their skin, some leave hard makeup lines, and others wear too much eyeliner.
If you want to apply your eyeliner as perfectly as a professional makeup artist can, you will need to commit to watching the pros and learning a few universal tips for stellar makeup application.
1. Keep Your Makeup From Sliding

Have you ever noticed throughout the day how your makeup will begin to slide off around your eyes, leaving oily crease marks and running beneath your lower lash line?
One thing the professionals never go without is a face and eye primer. Dab your eye primer on your lid, brown bone, and just beneath your eyes to keep your makeup in place all day.

This is an essential makeup item you will need for a pristine look, so make sure to get a high quality product. We recommend NARS Smudge Proof Eyeshadow Base. If you want to get a bit more for your dollar, the God Created The Woman Set is all you will need for a fantastic look!
2. Blend, Blend, Blend

You may have guessed, but no matter what shade of eyeshadow you decide to wear, blending is key to a beautiful look. Harsh makeup lines, jagged transitions between shades, and stiff eyeliner lines will make you look older and more amateur at the same time.
Keep a spare clean
Eyeshadow Brush
handy when applying your eye makeup to use for swirling and blending the colors evenly.
3. Pick the Right Colors

The right eyeshadow colors should enhance your eyes, not cover them. Soft neutrals look good on just about anyone, so if you aren't sure what to wear, apply a medium color to your lids, a light color to highlight your brow bone, and a darker color in your crease to enhance.
If you really want to set off your eyes, wear a color opposite of your eye color. Blue eyes will do well with a neutral brown shade, brown eyes with a bright violet or emerald, and green eyes with light peachy tones.

4. Balance Your Face

One thing you should always remember when doing your makeup is to balance your face properly. This means pairing dark eye makeup with nude lip colors, and brighter lipstick colors with soft light eyes.
You never want to mix dark lips and dark eyes, as you will most likely look like a clown or a vampire. (We're not sure which is worse!)
Knowing how to apply eyeshadow in a sophisticated and pretty way is crucial, so spend some time practicing in the mirror before you go out.
5. Dress Your Eyes for the Occasion

Another important thing to keep in mind is to always keep your eye makeup appropriate for the time and place you are going. During the day, it is better to keep your eyes either light or medium in color.
Save the dark, sexy eyes for evening!
Neon colors and super bright eyeshadows are usually best worn at after-dark parties and festivities.
Beach days are best suited with bare minimal makeup, or makeup that is carefully tailored to look bare minimum.
If you aren't sure what to wear for a certain event, stick with medium toned, pretty eyes and a natural colored lipstick that is just a shade or two away from your skin tone.
Learning what eyeshadow is for different types of occasions is something that will take a bit of observation and practice, but is well worth it in the end.
---
Makeup Tips Magazine

>

Makeup Tips Magazine

> How To Apply Eyeshadow
---
---