Fun and Flattering Pretty Eye Makeup Ideas
There are so many reasons to wear pretty eye makeup regularly. A simple shopping trip or night out with friends can feel that much better when you know that your complexion is glowing and your eyes sparkle.
And of course, there is every reason to spice up the night with a new look you haven't tried just yet.
If you aren't sure where to begin, my best advice is to start simple. Even simple looks can be stunning with the right touch.
You don't have to be a makeup guru to look great on an outing.
Cat Eye Makeup and Old Hollywood
This first look is very classy and is also easy to apply. It combines a pale, shimmery, eye-popping shadow with a winged Marilyn Monroe style cat eye.
You will need a cream or powder eyeshadow of choice, black (or brown if you are fair) liquid eyeliner, mascara, and an eye makeup primer.
Starting at the corner of your eye, liberally apply your eyeshadow with an eyeshadow brush in sweeping strokes.
Cover your entire eyelid from corner to corner. Once you have reached the depth of color you like, use a tissue to wipe your brush clean.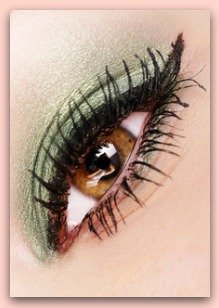 Next, use your eyeshadow brush to blend the edges of your eyeshadow outward in a circular motion. It is very important to feather out the lines of shadow so that it tapers outwards naturally.
Next, begin applying the liquid liner as close to your lash line as possible, starting at the inner corner of your eye and following the upper lash line.
Create a little wing at the end by going outwards and upwards just a touch. Finish this look with a few sweeps of mascara.
Styles of Eye Makeup: The Mermaid
This is one time when blue eye makeup is definitely in!
This next pretty eye makeup look is a bit more complicated and bit more extravagant, but still great for dancing and partying in.
I often call it the "mermaid look", because it combines deep, shimmery sea blues and greens for an almost fantasy party look.
You will need light emerald, bright blue, deep sapphire, and black eyeshadow.
Select a black liquid liner and mascara to complete the look. False lashes will look gorgeous with this type of eye makeup.
Using a crease brush, lightly blend some black eyeshadow into your crease towards your outer eye and on the outer half of your lower lash line.
Be sure to blend well so that it doesn't look "patchy".
Take your eyeshadow brush and begin applying the emerald eyeshadow to the inner corner of your eye and two thirds of the way across your eyelid.
Blend, blend, blend, especially at the corners of your eyes for a natural look. Next, sweep sapphire eyeshadow over the last third of your eyelid, covering the black shadow.
Add a touch from the outer corner of your eye along your lower lash line, about two thirds of the way across. As always, blend the deep blue out with feathering sweeps.
The last step is to line your top eyelid with black liquid liner, leaving a cute wing at the very outer corner.
Throw on some falsies if you so desire, and top with plenty of mascara. Voila beautiful!
---
Makeup Tips Magazine

>

How To Apply Eye Makeup

> Pretty Eye Makeup
---
---