Beautiful Fairy Makeup Ideas
Costume makeup is a work of art. Fairy makeup is no exception, it changes the reality of makeup as a day-to-day visual tool to a fun and beautiful hobby craft.
Many women wear special makeup for theater, parties, festivals, and of course, Halloween. These are some of the best times to prepare for when deciding what your makeup will look like.
This is one of the most beautiful designs you can put on your face. The more intricate, the more mysterious and interesting it will be.
However, even simple touches to your fairy, mainly in the makeup, when delicately applied will turn heads and bring compliments your way. You will want to practice your style a few times before the big event, so that it comes naturally and doesn't leave you frustrated at the last moment.
To create a fairy makeup design for your face, you will need a few items. These will get you started creating your pattern.
The first thing you will need are some cheap eyeliner pencils. Go ahead and use any pencils you already have, but if you need to buy certain colors there is no need to buy the higher end stuff.
Wet 'n Wild is great for Fairy Makeup
and usually has some pretty good eyeliner pencils for cheap.
Fairy Eye Shadow Make Up Tips
The next thing you will want to get is one or a couple of
Matte Eyeshadows
I suggest the
Pro 88 Color Makeup Matte Eyeshadow Eye Shadow Palette
A ton of colors, under 10 bucks. Its not the most quality, but for this purpose it works
very
well.
These will be used for coloring your eyelids, crease, and brow bone, as well as filling in the colors of leaves or flower blossoms.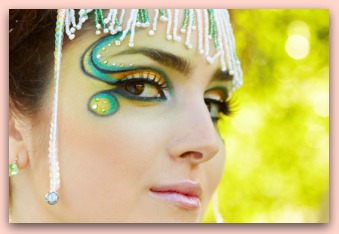 Make sure that you pick complimenting colors, you will need a medium shade for your lids, a darker shade for your crease, and a highlighter for your brow.
Select any other colors that are pertinent to the designs outside of your eye.
Next, choose an iridescent shimmer powder to add glitter and beauty to your designs. No fairy makeup is complete without a touch of shimmer and glitz around the eyes! Get creative and decide where you will put the shimmer.
Lightly dust it over your eyes for an all over effect, or put it in strategic places to attract the light. You can use the shimmer as a lining or center of your flowers, along the vines of leaves, or at the inside corner of your eyes.
Fairy Makeup Design
To get started, you will need to choose your template. You can draw one up yourself on paper for reference, or print a picture of a design you like to copy.
It is a good idea to practice your design on paper first with your eyeliner pencils and shadows until you feel confident enough to apply the makeup to your face.
Then, gather up the appropriate eyeliner colors for your design. Choose browns and greens if you want the "tree fairy" look.
Pinks and oranges are great for flowers and pretty fairies. You can also go with a mysterious fairy look, focusing mainly on darker shades. If you want to pull off more of an "ice princess" fairy look, opt for light pastels.
The last step is to completely prime your face with a makeup primer, and start drawing on the design! Apply the eyeshadow on your lids and brow bone first, then work your way out with vines and flowers that flow outwards from the outside corner of your eyes.
If you mess up, have a makeup remover pad handy to easily swipe off the makeup and redraw it. When you're done, you can spray a small amount of hair spray to any makeup on the side of your face to keep it in place. Don't do this to your eyes!
---
Makeup Tips Magazine

>

Halloween Makeup Ideas

> Fairy Makeup
---
---