Pretty Fairy Makeup Ideas
Eye Make Up Ideas for Fairy Style
The Fairy Makeup Ideas on this page will make sure that everyone notices you at the party. If you've decided to skip the warts and vampire teeth for Halloween in favor of a pretty costume that is.

Fairy makeup is both intricate and beautiful, and done properly will make you stand out in a crowd. With a little bit of practice, creating beautiful designs isn't too difficult.
You can always set your ideas on paper first, practice tracing them, and then apply the shapes to your face when you are ready.
However, there are many different kinds of fairies and a lot of different looks, so you may need some fairy makeup ideas to get started.
Fairy Makeup Looks

One of the simplest fairy looks is the beautiful young maiden. This look requires only foundation, pink blush, eyeshadow, lip gloss, and a little brightening powder.
You won't wear eyeliner or mascara with this one- the point is to have a bright complexion with light colors and a hint of sparkle. If you would like to keep it this simple, then you are finished!
Going all-out with your fairy look, however, can prove to be a very worthwhile costume. When considering what your more complex fairy eye makeup will be, consider different mystical plants and animals that you could incorporate.

Ivy, plant vines, butterflies, meadow flowers, exotic flowers, and stick on jewels all resemble fairy lore. Pick one or more of these and decide how you will mesh them together.

You also need to decide what type of fairy you will be. Ice fairies typically wear sky blue, light gray, and white all around their eyes with pale lip gloss and a light face.
Meadow fairies usually incorporate pastel colors with small flowers around the outside corners of their eyes. Tree fairy looks depict vines and ivy leaves, often with these types of plants woven through their loose hair.
Dark fairies portray dark shadows and heavy eyeliner, often with false lashes and black feathers in their hair.
Fairy Eye Shadow Make Up Tips
Whichever type of fairy you choose, make sure you choose eyeliner and shadows that are color appropriate. Practice drawing your designs on paper first, and then apply to your face. Consider straying a little bit from the norm to make your personal fairy makeup ideas even more unique.
How about swiping on some bronze eyeshadow to your brown bone or to the outside corners of your eyes, and then making a few fat, smudgy lines with black eyeshadow to create a subtle leopard print?
Or, why not adorn your glittery eye makeup with a few tiny jewels at the outer edge of your eyes? 

Perhaps you can use a small jewel for the center of each of your meadow flowers.
Exotic Eyes Rhinestones Are Great For All Your Fairy Makeup Ideas
are perfect for this. You can also buy a variety of
Stencils
to use as a basis for your fairy style.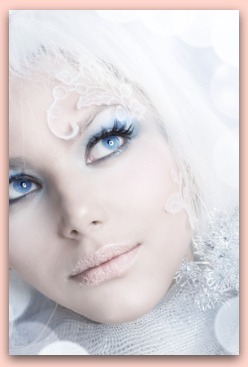 Once you have created and practiced your design, it is time to apply. The first thing to do is round up all of the materials you will need, and put them in one place for easy access.
Then, apply both a face primer and an eye primer. You want your makeup to stick for the whole night. Keep in mind that fairies are rarely tan, so choose a foundation that is a little lighter than your skin tone if you aren't naturally fair.
If you will be making up your eyes, do this before the designs around your temple so nothing gets smudged in the process. And if you make a mistake, have a make up removing wipe or pad handy to easily remove the mark and redraw it.

Have fun with your makeup, and be sure to practice your fairy makeup ideas and designs a few days before the main event so that you are prepared and feel at ease.
---
Makeup Tips Magazine

>

Halloween Makeup IDeas

> Fairy Makeup Ideas
---
---