Eye Makeup Looks

Make Dramatic Eye Makeup Work For You

Discover the best eye makeup looks for every occasion and learn how to apply eye makeup professionally for a special event.


Choosing the right style of makeup to wear for the occasion is very important, as you don't want to look too overdone or too casual for where you are going. There are a variety of eye makeup looks, and each one has a specific purpose. Knowing a few different casual and dramatic styles will prepare you for anything that comes your way.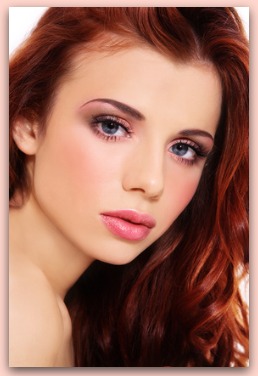 Classic Makeup
Casual is probably one of the most common, classic makeup styles. It is what you will wear on an everyday basis; to the grocery store, at work, or while shopping with friends.
Casual makeup is light, airy and youthful, and usually doesn't have very much darker makeup involved. Basic casual makeup includes foundation, mascara, lip gloss, blush, bronzer, and optional eyeshadow and eyeliner.
During the day, your aim is to look pretty and as natural as you can get with your makeup. With casual makeup, most light to medium haired women will wear a brown mascara, saving the blackest black for at night.

Blushes also tend to be more peachy than pink during the day, giving you a natural glow that warms your skin tone. Eyeshadow and eyeliner are optional, and should be used very lightly and blended well so that they give you pretty light eyes.

To get a casual look, start by applying your foundation carefully, and use a translucent powder to set it. Then, take a large fluffy brush and lightly apply bronzer below your cheekbones to sculpt your cheeks and make them appear slimmer. Wipe the brush off, and apply a coral blush to the apples of your cheeks for an easy glow.

This is the basis for a fresh, youthful day face that you can wear anytime. Throw on some brown mascara and light lip gloss, and you are all set. This casual day-to-day look is peachy and fresh, and makes you look younger as well. Did we mention that men prefer women wearing this style of makeup? Less is truly more on most occasions.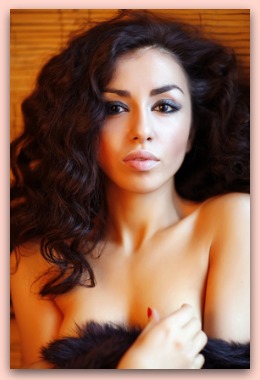 Dramatic, Sexy Makeup
Dramatic eye makeup is another style that many women love to wear and perfect. There is a time and place for everything, and parties and after-dark events are the best time to wear this look.
Dramatic eyes can be as simple as a beautiful smokey eye in green or slate, or can be as complex and sultry as a three toned layered eye with winged eyeliner and false lashes.

Dramatic eyes are also the most difficult style to apply perfectly, so you will probably need to practice your styles once or twice before an event.

See how your skin looks with different shades of colors, and choose palettes according to what looks best with your skin, hair, and eyes.
Beach Eye Makeup Looks
Beach makeup is another style all on its own that is worth mentioning. When you are at the beach, it is expected that you go natural and not be fussing with your makeup. Playing on the sand is a time for relaxing with your friends or your lover. Spend your time soaking up the sun (with regularly applied SPF!), and go with a natural face and fly away beach hair.

If you are careful, you can usually get away with minimal makeup if you don't want to go completely bare. Remember that the sun will reflect any reflective pigments, so be sure to avoid anything that shimmers and stick with matte colors for a natural look.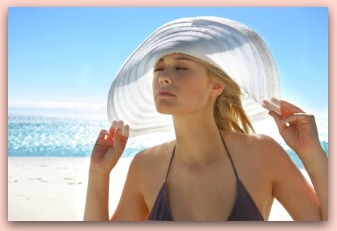 First, apply a waterproof liquid foundation that matches your skin, and blend it in really well until you can't even tell that it is there. If you need to, blend in a small amount of peachy blush for a natural flush.
Stay away from more pink blushes, as they don't look very natural and will show up bright against the sun. Then, apply one or two layers of waterproof mascara.

If you have light to medium hair, choose a brown instead of black mascara for a natural look. Lipstick, eyeshadow, and eyeliner are forbidden at the beach.

Wear a small amount of peachy lip gloss if you feel inclined, but keep your overall bikini look natural, as if you aren't wearing any makeup at all. Eye makeup looks on the beach should be as fair and natural as possible.
Back to How to Apply Eye Makeup from Eye Makeup Looks

Return to Makeup Tips Home from "Eye Makeup Looks"