Dramatic Eye Makeup Styles

Sultry Eye Shadow Make Up Tips

How to apply dramatic eye makeup for a special event or party! This eye make up ideas tutorial has eyeliner and eyeshadow tips for the perfect look.
Dramatic Eye Make Up
Dramatic eye makeup is a form of expression, a sign of powerful beauty, and a means of gaining admiring attention. We see it everyday. Celebrities and Hollywood stars rock the red carpet absolutely gleaming- and usually wearing such pristine and attention-grabbing eye make up to make any girl strive to replicate it. If eyes are the window to the soul, then the makeup applied is the gateway. Well finished eye make up can make or break any girl's look.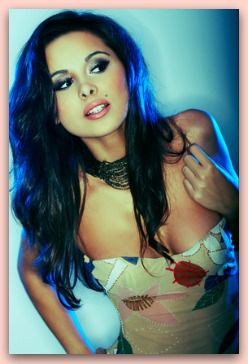 Creating a dramatic eye makeup effect is simple, and, with the right technique, can create a gorgeous appearance on any girl. So what makes a certain style daring and dramatic?

Light, day-to-day makeup rarely includes colors that are outside of the neutral color wheel, and focuses mainly on lightly enhancing ones natural features. This style is mostly worn during the day, and is meant to make a woman look young, fresh, and cute.

Dramatic eye makeup, on the other hand, has a whole other meaning and purpose. Women wear this style after dark for parties, dates, and especially runway shows (if she is famous). It is meant to signify sexiness and overt beauty, drawing attention to a woman's best assets- her eyes.
Achieving Perfect Eye Makeup Looks
Eyeliners in black, charcoal, and deep brown compliment eye shadows in a variety of colors. And while a daytime eyeshadow is usually lightly applied just above the lid, at night one or more colors may sweep over the eyelid, crease, and brow bone to create a more prominent look.

There are a few basic makeup products needed to create a dramatic look with your eyes. Test out a few different color combinations to find one that compliments your eye color and skin tone.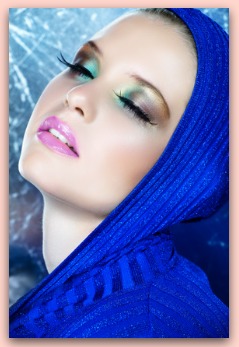 Best Mascaras
Mascara is an absolute must in making your eyes look open and gorgeous no matter where you go.
Make sure you are using a reasonably new mascara stick that isn't dried out, and that has a wand with enough bristles to thoroughly coat your lashes without clumping. You may also want to use an eyelash curler before applying any mascara to get the best effects.
Eyeliner Styles
To get that dewy, luscious look, you will need an eyeliner that looks good against your eye color. Women with brown or green eyes often pick a black or olive color, while blue eyed beauties usually stick with black, charcoal, or chocolate brown eyeliner.

Draw a line close to your lash line starting at the center of your eye, and move outwards until you reach the very corner. You should always smudge your eyeliner so that there are no sharp lines.
Eyeshadow Application
Probably the most noticeable part of dramatic eye makeup is the choice of eyeshadow. It can match the color of the eyeliner, such as with smokey eyes, or can enhance the eye color using a myriad of shadow colors carefully blended into the "rainbow effect".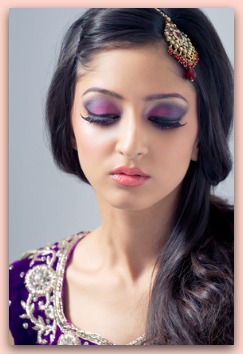 Eyeshadow can be layered in a variety of ways as well. For smokey eyes, a dark shimmery or matte charcoal is applied to the lid and crease, as well as to the bottom lash line for a sexy cat eye effect.
Exotic Makeup for a Party-Ready Look
To create a sophisticated yet gorgeous eye look, many makeup artists will apply a light shimmery color to a woman's brow bone, a medium matte or shimmer to her lids, and then a darker color swept in right at her crease. These three colors are always in the same color family and tone.
For a more colorful party look, three eyeshadow colors can be carefully blended horizontally, with one color surrounding the first third of her eye by the corner, the second in the middle half of her eye, and the third sweeping out near the outside edge. This can be an amazingly beautiful look with colors that go together and are blended well.
Back to How to Apply Eye Makeup from Dramatic Eye Makeup

Return to Makeup Tips Home from "Dramatic Eye Makeup Styles"