Best Tips on Colorful Makeup
The best colorful makeup tutorial with beginning and advanced techniques for wearing bright makeup.
Bright eye makeup, if done well, can spice up your costume or festive night out beautifully. The right eyeshadows can create a cascading fall of colors over your eyes and enhance their natural shade.
You can even alter the natural shape of your eyes by using eyeliner and shading techniques for a more exotic look.
Glamour Eye Makeup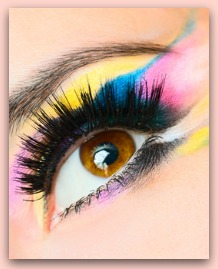 Before you begin, decide what your "theme" is.
Are you modeling colorful makeup in green for St Patrick's Day, leopard spots for a party, or shimmery mermaid makeup for Halloween?
Pick an array of three to five colors that look appropriate together.
You will want a very light shade, some medium shades, and a dark shade to create the blending effect. These colors should also complement each other and look like they belong on the same palette.
To get started, apply the lightest, almost white shade to the inner corners of your eyes and blend upwards and outwards. You can use this same shade, or a more nude tone, to highlight your brow bone as well.
Dab the medium shade onto the very center of your eyelid, and begin blending outwards. Brush the medium dark shade in a sideways V, from the top center of your eyeball out to the corner of your eye, and back in to the outer part of your upper lash line.
You can deepen this V even more by using the darkest color over it to give a more dramatic look. Make sure to blend all of these shades well. You don't want to be able to see lines between different eyeshadows.
Simple Colorful Makeup Techniques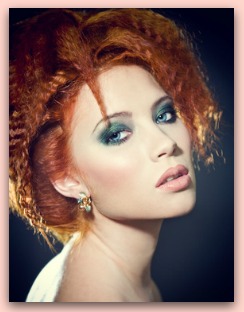 If you want to try something a bit simpler than the cascading effect, try using a colored eyeliner pen. Creating an attractive, winged eye with a bright eyeliner pen is a fast way to get noticed and still be unique.
Try using a navy blue or plum purple in the evenings, or a bright turquoise or mint green during the day. Add on some mascara and blush and you are set to go!
Another simple way to brighten up your look is to apply a bright eyeshadow just below your lower lash line. Start by applying neutral, earth tone shades to your eyelids and top with mascara.
Then, apply a light shade of a brighter color underneath your lower eyelashes from the outside corner fading to the inside corner. Lighter blues, greens, and lavenders work well for most eye colors.
---
Makeup Tips Magazine

>

How To Apply Eye Makeup

> Colorful Makeup
---
---