Cat Eye Makeup
An Exotic Makeup Step-By-Step
Let's get started with the cat eye makeup tutorial for creating a sexy, Old Hollywood look with fresh and dramatic eye makeup tips! Try these and you will be the cats meow at the next shin-dig!

Sleek cat eyes are a beautiful look that you would often see in Old Hollywood.
Actresses like:
Marilyn Monroe, Elizabeth Taylor, Audrey Hepburn, and Diana Dors were often photographed wearing cat eye makeup with their attractive '50s outfits.
This style of eye make up is simple to create, once you have a balanced hand and are familiar with applying liquid eyeliner. There are a few variations of the look, including thin, obvious lines and dark, smudgy cat eyes.
Marilyn Monroe Makeup Tutorial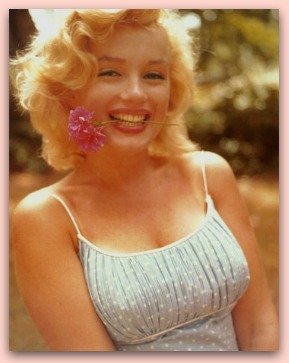 You can tailor your eyes to suit the occasion and your own style.
Start out by applying your foundation, powder, and an eye primer. This will keep your eye make up in place for the whole day, or evening.
Some women prefer to wear no other eye makeup than just eyeliner and mascara for the look.
Others like to add a little shimmer and depth to it with eyeshadow. If you would like, go ahead and use a nude shimmery eyeshadow on your lids and up to your brow bone. Now you are ready to apply the eyeliner.
If you can get a hold of one, eyeliner pens are the best way to go. They are easy to use and make smooth lines simple to achieve. If you don't have one of these, standard liquid eyeliner will do.
You can also use a pencil if you would like, however traditional cat eye makeup most often uses liquid liner for its glossiness.
How To Apply Cat Eye Makeup
Start at the inner corner of your eye and draw dashes very close to your lash line until you reach the outside of the colored part of your eye.
Go back to the inside and begin following the lines, applying the liner in short strokes.
Once you reach the outside of your colored iris, begin making the line thicker and slightly slanting upwards for a catty effect.
Bring the line out past the corner of your eye as far as you'd like.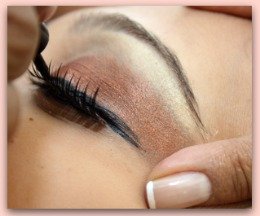 It can be a short sweep for a simple day look or a longer one for a more dramatic appearance. End your line with a gentle flick to properly shape it.
Now that you have created a cat eye, you can add anything else you would like to tailor it more for you. Many women like to add a touch of dark shimmery shadow on the second half of each eye, blending outwards to create a mix of cat eye and smokey eye.
This is a good option to go with if you feel that your lines are too sharp for your face. Make sure to blend the shadow in well with your eyeliner.
You can also add a highlighter to your brow and just beneath your lower lashes for a pretty look. Pale gold is a good color to choose if you decide to do this.
Another great way to top off beautiful cat eyes is with some false lashes. Choose a natural looking pair, and squeeze on a bit of lash glue.
Once the glue becomes tacky, press it into your top lash line and arrange it to fit naturally. Use black or brown mascara to make the lashes blend in with your own and dramatize the cat eye makeup look.
---
Makeup Tips Magazine

>

Halloween Makeup Ideas

> Cat Eye Makeup
---
---