Britney Spears Makeup Tips
Here are the closest Britney Spears makeup tips and ideas to replicate her look. Learn how to put on eyeliner like Britney and create beautiful pop-star eyes.

Britney Spears Makeup Tips
Britney Spears' best features lie in her beautiful eyes and pretty smile. She has a fair complexion and blonde hair, much resembling a typical perfect Barbie doll. She seems to prefer going natural when she isn't performing on stage.
However, once in the spotlight, Britney Spears tends to favor a lot of eyeliner with enhancing shadows, and light neutral lipsticks and lip glosses.
Starlet Eye Make Up Ideas
To get her look, start by perfecting the arches of your eyebrows to get the same eye shape, and then choose makeup. Britney wears the tri toned look a lot while doing her photo shoots.
Start by applying a very light pearly eyeshadow from your eyelids all the way up to your brow bone, stopping just below your eyebrows.
Then, apply a medium colored shimmery shadow like gold or peach to your entire eyelid and just beneath your lower lashes as well.
This will provide a beautiful base for your eye makeup. Next, swipe a darker shade of brown into the crease of your eyelid to define your look.
Britney wears a lot of eyeliner to emphasize her eyes onstage and in photos. If you look closely, you will notice that she lines her eyes from corner to corner on top and bottom.
While many people opt to start their eyeliner at the midpoint of their eyes. If your eyes are close set, it is better to begin at the midpoint and work outwards.
Eye Shadow for Brown Eyes
Britney also likes to show off smokey eyes, which can be beautiful on any girl with the right colors. Try using a charcoal, brown, or lavender eyeshadow and liner to create beautiful smokey eyes.
Ms. Spears usually wears a metallic steel gray shadow which accentuates the smokey look beautifully. Urban Decay S&M eyeshadow in metallic silver is almost identical to her colors.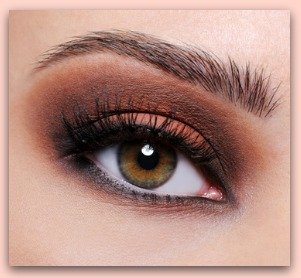 Britney Spears usually stays away from darker lip colors, and can usually be seen wearing frosty lip glosses and lip sticks.
And while sometimes she opts for a nude color, most of the time her eyes and hair are best accentuated with light pink and coral lip colors. Try Nars Lip Gloss in Babe or Coup de Coeur for the official look.
Whether you are blonde or brunette, fair or medium skinned, you can tailor these Britney Spears makeup tips to match your skin tone and hair color simply by adjusting her look slightly. If you are very light, opt for lighter eyeshadows and eyeliners in the same color family to replicate her look.
You can also pick lip glosses and lip sticks that are more neutral or more pink, as well as lighter or darker to accentuate your skin as best as possible. Have fun with your makeup, and practice your smokey eyes a few times to get it just right!
---
Makeup Tips Magazine

>

Make Up Ideas

> Britney Spears Makeup Tips
---
---