How to Spot the Best Self Tanner Products
The best self tanner for your skin type should be an easy-to-apply product, such as self tanning wipes or sprays, that create an even bronze shade.
Becoming a bronzed beauty without resorting to damaging UV rays can be difficult, especially when your tanner never seems to stop streaking and rubbing off.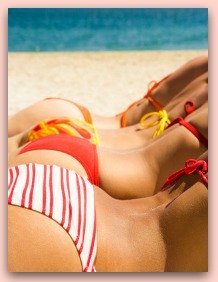 However, it is completely possible to get a gorgeous, natural looking tan using an artificial tanner. A combination of buying a high quality product, prepping your skin sufficiently, and applying properly will give you the best tan possible.

The first thing you should know about faux tanning is that there are a lot of options, and depending on your skin tone and experience level, certain types may not be right for you.
If you have very fair skin, you should always start with a
Gradual Tanning Lotion
and slowly
build up a base tan
for the most natural appearance. After you have a base tan, you can use a self tanner to get a deeper bronze.
It is also a good idea to use this method if you are new to self tanning and want an even tan within a few days time for an event. It can often take a few tries to learn how to apply a fast acting tanner evenly, so starting out with a gradually developing product is often your best bet.

Once you've done some practicing with your self tanning lotion, you can begin to experiment with different types to find one that works best for you.

Many people find that sprays are easy to apply, especially if you don't have a sister or girlfriend to help you with your back. You can even purchase an inexpensive airbrush tanner with detachable tanning cans to help evenly cover your body from head to toe.
The Best Self Tanning Lotions Ingredients
Technique aside, the actual tanner you buy will make a big difference in the appearance of your skin afterwards. Thankfully we here at Makeup Tips Magazine have done most of the hard work for you.

The links to the products we offer are only things that we support for quality results and getting the most for your dollar. Because cheap tanning products are less likely to look natural and apply evenly, so invest a little more in a better product and enjoy your new glowing skin.

The best self tanning lotions on the market all seem to have a couple of things in common. The first is that they have less dihydroxyacetone, or DHA. This is the chemical that reacts and darkens the top layer of your skin.

Some cheaper tanning products contain high levels of DHA, which can cause your skin to turn orange with dark splotches. You may also turn orange if you use too much tanning product all at once, instead of slowly layering it on.

Because of this, it is a good idea to choose tanners with less DHA because they give a more natural appearance and coloring.

One ingredient you do want to see on the list is Erythrulose, a sugar that is derived from raspberries.

Erythrulose mixes with the DHA and supposedly creates a shade of tan that is closer to what your body would naturally create if you were sun tanning. The best self tanner will contain both ingredients.
The Best Self Tanner We Found was Natures Gate Glow
but if you would like, go ahead and shop around. There are many good lotions on the market today!
---
Makeup Tips Magazine

›
Best Self Tanning Lotions
› Best Self Tanner
---
---