The Best Face Self Tanner
Bronzed Skin Tanning Lotion Reviews
The best face self tanner will give you a natural skin tone without streaks or dark patches. Check out the best rated tanning lotions for your face!
You've made the smart choice to keep your skin out of the sun and under the protection of high SPF everyday. That's great!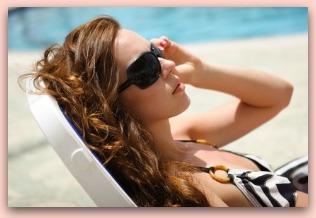 However, you probably still want to have gorgeous, dewy bronzed skin without the wrinkles, age spots, and threats of cancer.

Finding a self tanner that doesn't make your face look dirty, orange, or streaky is one of the biggest challenges.
Proper exfoliation and moisturization prior to tanning puts you on the right path from the very beginning. Purchasing a high quality tanner with the best ingredients will make the most difference in the color and evenness of your face. Here are a few of the best face self tanner lotions!
The Best Self Tanning Lotions
Lorac Self Tantalizer Bronzing Gradual Self Tanner
This all over face and body bronzing lotion is one of the best you can use, especially if you are new to faux tanning. The formula creates a gradual tan as you slowly build up your color day by day.

It is a great product to use if you want to be able to see your tan develop step-by-step, and you can even apply it twice per day to get results quicker.

Lorac Self Tantalizer also works very well for your face because it contains and instant bronzer. This helps you to be able to see where you've applied the lotion and blend it in a little more.

It also makes for a fast application because you gain a little color immediately after rubbing it in. Maracuja and pomegranate seed oils in the lotion hydrate your face and plump up dry skin in the summer heat so you appear more youthful.
Origins The Great Pretender Shimmery Self Tanner
If you have naturally very fair skin, this is probably the best face self tanner for your skin. It contains DHA, a raspberry-derived sugar that blends with your skin to create a more natural tan shade.

This is one of the ingredients you always want to look for in a self tanner, because it fights the orange and creates a more bronzed appearance.

Origins is also oil free and non acnegenic, making it a great choice for women with sensitive skin. It blends well into the skin and gives a very natural appearance.

If you want to have deeply bronzed skin, you may have to apply a few times to get a darker color. It's natural shade, however, makes it a wonderful option for lighter skinned women.
Nuxe Soleil Prodigieux Self Tanning Face Cream

Nuxe Soleil is definitely a tanner worth trying if you are looking for a product that lasts longer than others. This one is great for medium skin tones, and will stay up to a week without fading if applied after proper exfoliation.

It is non comedogenic, contains no parabens, and is a great moisturizer for you face and body. Nuxe Soleil also contains micro pearlizers, which give your skin that dewy, glowing look. It is a great tanner to use in the middle of summer when the days are hot and you want your skin to look its best.
Back to Best Self Tanning Lotions from The Best Face Self Tanner


Return to Makeup Tips Home from The Best Face Self Tanner
---
---