Best Self Tanning Towels

How to Apply Self Tanner for a Glamorous Appearance

Learn how to select and use the best self tanning towels for a flawless tan that is easy to apply on-the-go. Check out these sunless tanning reviews for tips and advice on home tanning.

There are so many ways to self tan without the sun, it can make your head spin trying to figure out which method is best. There are sprays, mousses, gels, lotions, aerosols and even portable towelettes to choose from in a variety of shades and brands.
Best Self Tanner for The Busy Woman
So where do you start? If you travel frequently or need to touch up often, self tanning towels may be the best option. Pre-treated disposable towelettes blend easier than lotions and gels, and can be put in your cosmetic bag for a quick tan.

One of the first things I worried about with tanning towelettes was whether or not you would need to use half of the pack in one sitting to tan your entire body.


Surprisingly, you can easily cover your skin head to toe with just 2-3 towelettes, and with most coming in packs of twenty or more, you won't need to run to the store every week.

Another thing I found to be great with the self tanning towels was how quickly they dried on my skin. Having previously used lotions and sprays, it was really nice to be able to tan and not have to jump around with all limbs stretched out trying to dry quickly.

I was able to put my clothes back on after just a couple of minutes and didn't have to avoid my cream bedsheets like the plague.
Tanning Lotion Reviews
If you decide to start tanning with pre-moistened tanning towelettes, it is a good idea to read reviews of different brands first to make sure you pick a good one.

Many cheap self tanners can make your skin much more orange than bronze, which is never sexy. You might also want to read reviews to avoid ones that have that "tan in a can" smell.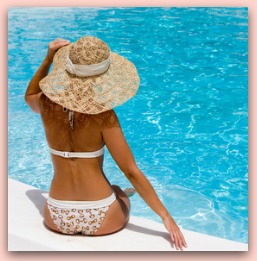 Once you have a pack of self tanning towels, make sure that you exfoliate well all over your body. It is better if you can exfoliate everyday for a few days prior to tanning, but if you are in a hurry it isn't critical.

Apply a moisturizer all over, especially to your elbows, ankles, and knees. Then, swipe the towels all over your body going lighter around the wrinkly areas. Be sure to blend, blend, blend.

One easy way to make your own towelettes and create a flawless tan with lotion is to apply a tanning product to pre-moistened baby wipes. This can actually be more effective and even than using a tanning lotion alone, and is certainly more cost effective.

You will still need to exfoliate and moisturize your body properly, but if want to save money on self tanning towels, simply make them yourself. The baby wipes will help the tanner to blend into your skin easily, especially after a moisturizer is applied.
Back to Best Self Tanning Lotions from Self Tanning Towels

Return to Makeup Tips Home from "Best Self Tanning Towels"