Beautiful Eye Makeup Tips and Ideas


Step by Step Tutorials to Create Every Style


Lucky you for having been born with gorgeous eyes! Eyes come in all shades, from light honey to rich chocolate to sea blue and lovely green.

Whichever color you have, know that you have one of the best tools for creating depth and beauty every single day. You don't just have to take my word for it, either. Makeup artists all over the world have stated their joy in beautifying womens' rich colored eyes.

Women's eyes are beautiful, extremely versatile with makeup colors, give the skin and hair a warmer radiant appearance, and have true depth.

Let's get started on our makeup!
---
---
Summer Beauty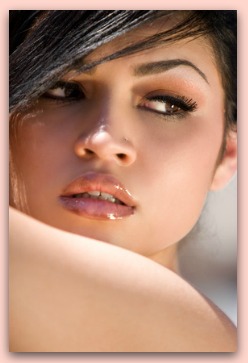 This look is absolutely gorgeous during the summer months when the sun is shining and you're ready to start those walks on the beach.

To Get This Look:

The first step is to apply a pale highlight to your brow bone. Choose a shade that is just a bit lighter than your skin tone, this will reflect the most light.

Next, sweep your warm, light brown shimmery base all over your lid and up onto the lower part of your brow bone.


This base is a radiant and inviting shade that looks beautiful in the sunlight.

Pick up some medium matte brown eyeshadow onto your brush, and lightly sweep it over your eyelids, being careful to keep the color below your crease line.

Add a little more to your brush and line the outer half of your lower lash line. This adds definition and depth to your eyes, but isn't so dark as to look overdone on a bright day.

Use your black liquid eyeliner pen or gel pot and apply liner from corner to corner, making your line just a bit thicker as it reaches the outer part of your eye.

Taking your dark brown eyeliner pencil, enhance your lower lash line. Apply your mascara, and use a fluffy brush to ensure that all of your eyeshadow shades blend naturally.
---
---
Elegant Gold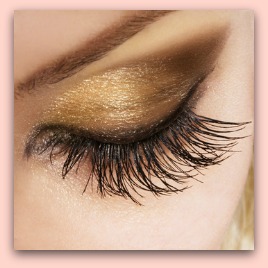 A shimmery gold eyeshadow can quickly brighten up your eyes and give you an elegant evening-out look.

To Get This Look:

First apply an eyelid primer base to keep your makeup in place. Then, take your eyeshadow brush and apply the gold shadow to your entire eyelid.

Take a small amount of the excess and lightly sweep it onto your lower lash line. Clean off your brush on a tissue, and pick up some of the matte brown pigment.

Begin at the outer corner of your crease and use short strokes to sweep it outwards in a V shape. Sweep the color back in just a bit over the top of the gold.

At this point, you may need to wipe your brush again and dab on a bit more gold in the center. Use a small fluffy brush to blend the two colors so that there are no harsh edges.

You will also want to use your eyeshadow brush to sweep in a small amount of the matte brown to your lower lash line. Be careful not to cross the midway point however, you want your eyes to look open and fluttery!

Now that your eyeshadow is complete, take a dark brown eyeliner pencil and follow your upper lash line from corner to corner. When you reach the end, flick it ever so slightly to give it a soft, tapered point.

If you wish, you can also line the outer third of your bottom lash line for more drama. Complete your look with lots of mascara, just be sure to brush out any clumps to keep the look soft and romantic.
---
---
Romantic Purple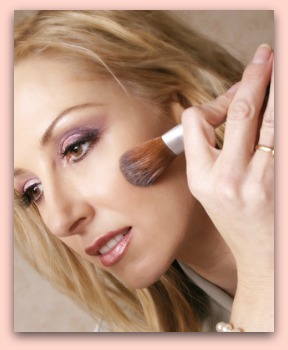 This soft, romantic hue gives your eyes a bit of color and wonder that can be worn for day or night.

To Get This Look:

Apply your primer first and allow it a minute to dry.

Start by applying a small amount of shimmery peach highlight to the inner corners of your eyes, as well as your brow bone just below your eyebrows.

Next, apply your light mauve base color all over your eyelids, as well as above your crease.

Sweep this color into a V from the outer corners of your eyes. You can see in the photo that the model's makeup is shaped this way.

Clean off your eyeshadow brush, and lightly dip it into white eyeshadow. You really don't need very much for this step!

Dab it onto the center of your eye, and use a small fluffy brush to blend the white with the purple base. This will brighten the center of your eye but give all of your makeup a subtle purple hue.

Next, put a very small amount of the plum eyeshadow onto your brush, and begin blending it into your crease on the outer third of your eyelid.

Blend well, and try to bring a little bit of the color down in a sideways V shape to also line the outer corner of your upper and lower lash lines.

You want to make sure that you are blending all of the shades together well so that the color change isn't noticeable. A quick tip at the end: You can always use a clean fluffy brush over your entire eyelid to help smooth the color transitions.

Lastly, curl your lashes upwards and brush them outwards with an eyelash brush. Top with mascara and you have very pretty, romantic eyes.
---
---
Summertime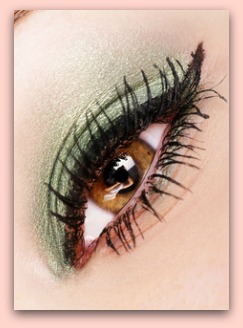 This look is absolutely beautiful during the spring and summer months when the sun is out and you want to look fresh and peppy.

If you'd like an after dark style as well, use a darker shade such as plum for the eyeshadow and keep the winged eye.

To Get This Look:

You can use any shade of eyeshadow you wish with this look, which is great because you have a ton of options.

In this tutorial, we will use this shimmery pastel green. After you've primed your eye, cover your entire eyelid with your eyeshadow of choice.

Add a bit more to your brush, and sweep it under the outer half of your lower lash line to brighten up your eye area even further.

Then, take a clean fluffy brush and blend the outer edges of your eyelid in small circles. To get this eye makeup just right, you really want to achieve a soft focus look by blending, blending, blending!

Next, take your black liquid eyeliner pen or brush and follow your entire upper lash line from corner to corner, flicking it out at the end to create a pretty wing. Add just a tiny bit to the outside corner of your lash line and smudge as necessary to darken the area.

As you can see in the picture, this look requires a thicker line than you would probably normally wear. It also starts out thinner towards the inner part of your eye and becomes thicker towards the outside.

This is a good rule of thumb to follow with eyeliner, because it will keep it from looking amateur and "heavy" on your inner eye, which can also tend to make your eyes look too close together.

Don't be afraid to practice your eyeliner a few times first until you feel ready to create this look! Then, finish with dark black mascara on top and bottom.
---
---
Evening Party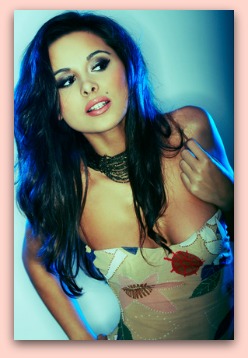 Here is one party look you won't want to miss! These eyes are super sexy and look great whether you have light brown or dark brown peepers.

To Get This Look:

Apply your eyelid primer base all the way up to your brow bone to keep your makeup in place all night.

Begin by dabbing matte white eyeshadow on the inner corners of your eyes as well as on your brow bone to highlight these areas and make your eyes pop!

Then, begin applying your silver eyeshadow base all over your entire eyelid, and just below your lash line as well. This will create shining eyes and make a great base for our smokey eye rendition.

Next, apply a darker, shimmery charcoal eyeshadow to your crease and blending into a sideways V that enhances the shape of your eye.

Keep blending until you feel comfortable that the colors transition well. Then, dab on a small amount of matte black eyeshadow into the crease to deepen the eye further.

You want to use matte because there are already so many other shimmery colors around the eye. Matte will help bring the shades back to deepen your eye naturally.

Blend the black into your crease and your entire lower lash line. This is probably one of the best looks for applying fake eyelashes if you like wearing them on occasion, or simply curl them and add black mascara to complete the look.
---
---
Festive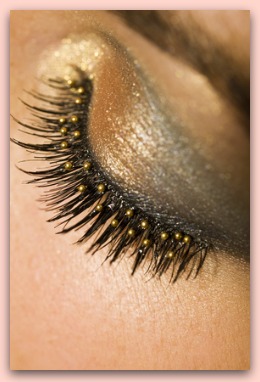 I love this look. It is very unique and classy, and one that you certainly won't see on anyone else at your next big event.

To Get This Look

Apply the light gold shimmery eyeshadow to the inside corner of your eye, and lightly blend into the eyelid to highlight and widen your eyes.

Then, apply a shimmery medium brown hue to the center and outside of your eyelid.

Blend the edges of the shadow outwards to give it a more natural look.

Begin at the outer corner of your upper lash line, and begin blending the silvery blue shade across your eyelid. Don't bring the color any further than the center of your eye.

Take a small amount of the color, and sweep it in a thin line just below your brow bone and above the dark gold. Apply the lash beads lightly on top of your lashes for a complete effect.
---
---
Seductive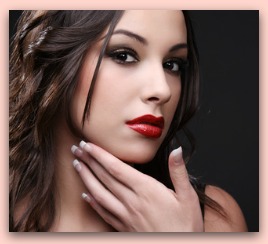 This look is classic, and a very beautiful one that is suitable for many occasions.

Combining a true red lip with a natural smokey eye is a fantastic way to go for women with brown eyes.

To Get This Look


Begin by highlighting your brow bone with a light matte eyeshadow. Then, brush on a dark gold to your entire lid. This base will brighten the color of your eyes.

Take a small fluffy blending brush and lightly dab on dark chocolate eyeshadow right into the crease of your eye. Continue blending until the colors flow and there are no obvious lines.

Take a small amount of this shadow, and line your lower lash line to create a smokey look. Add mascara and a true red lipstick to finish the entire look.
---
---
Espresso Dream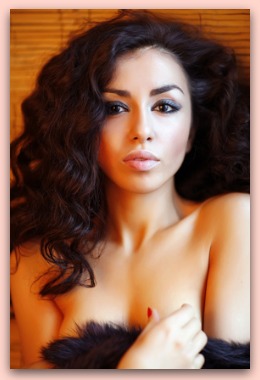 If you've ever wanted to have eyes just like Princess Jasmine, this is the style to master!

Arched eyebrows, dark, almond shaped eyes, and deep shadowing bring it all together.

To Get This Look

Begin by dipping your eyeshadow brush in a dark charcoal shadow, and carefully cover just your eyelid.

You might want to place an index card or tissue over your cheek for any excess that may fall.

Use a fluffy brush to blend the outer edges of the dark eyeshadow, bringing a small amount to your lower lash line for extra drama.


Then, line your lower water line from corner to corner with deep black eyeliner. Use a black liquid eyeliner to line your upper lashes. Leave a small wing at the corners to create that beautiful almond shape, and you are done!
---
---
Wild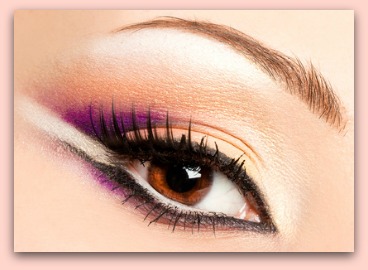 This eye makeup look is truly striking and beautiful. If you are looking to make a statement, it is just a few sweeps away.

To Get This Look

Begin by highlighting your brow bone with a white eyeshadow. Then, cover your entire lid and crease with pale peach to add definition and color.

The next step is to take a piece of tape, and place the upper corner against the outside corner of your eye. The top edge should make the line between white and purple you see in the picture.

Pick up some vibrant purple eyeshadow onto your brush, and begin blending it into the outer part of your crease, sweeping the excess outwards.

Next, move the tape downwards about an eight of an inch while still keeping its corner at the corner of your eye. As you can see, this will create a long, thin rectangle pointing outwards.

Fill this rectangle in with white eyeshadow, being careful not to smudge the lines that the tape created.

Take a black eyeliner pencil and line your lash lines top and bottom. You want to achieve a thick, smudgy line around your eye.

Make sure that your eyeliner does not touch at the outer corner of your eye. As you can see from the picture, the eyeliner stops and, on the bottom, lightly follows the white line outwards just a little ways.

The last step is to apply a small amount of the purple eyeshadow just below the lower eyeliner. This will bring extra emphasis to your eyes and enhance the stunning outer corner design.
---
---
Seductress

This gorgeous style is great for date nights and fun evening events any time of year.

It combines a classic smokey eye with a living-on-the-edge metallic steel eyeshadow.

To Get This Look

Highlight your brow bone with white eyeshadow, just below your eyebrows. Blend in more white into the inner corners of your eyes, sweeping it towards the center of the eyelid.

This step will wake up your eyes and provide a good base color. Next, apply steel gray shadow to the center of your eyelid. This makes your eyes stand out and look bright and alert.

Pick up some dark gray blue eyeshadow and begin blending it into your crease. Add more color as your cover your lower brow bone and work outwards into a V that follows the shape of your eye, as in the photo. Bring some of this color to your lower lash line as well.

Take a matte black eyeshadow, and press it into your outer crease to deepen the contrast and bring more depth to your eyes. Blend the black in well so that it fades in and out naturally.

Lastly, apply a generous amount of mascara, and even fake lashes if you wish! Fake lashes go very well with this look because of its deep contrast.
---
---
Additional Tips and Looks for Gorgeous Brown Eyes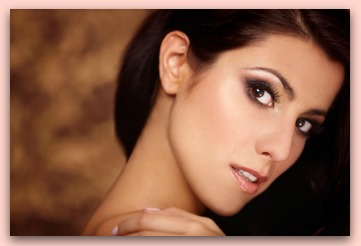 1. If you have lighter brown eyes, one of the sexiest looks you can wear is a smokey eye.

Neutral warm tones like honey, caramel, chocolate, and espresso will add depth to your eye area and make your eye color "pop".

Choose the lightest shade for the inner half of your eyes, and gradually fade from medium to dark for the outer half.

2. If you have very dark hair and dark eyes, brightening up the eye area with your makeup is key. Try using a lighter shade with a cool tone on your eyelids and below your lower lash line to draw attention.

Feather the makeup out to blur the edges, and add mascara for extra effect. This will give you a "soft focus" effect that gives you a sultry look.

Another tip for this look is to choose a rosy gold blush and apply it to the apples of your cheeks, just below your eyes. This will make your eyes shine and your face glow even more.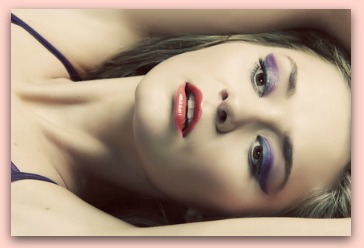 3.
Women with brown eyes almost always wear black mascara, and for good reason. It is bold yet natural, and deepens the eye area perfectly. However, you can brighten your eyes even more by using dark navy mascara.

Blue and brown are complementary colors, and the navy will make the different flecks of brown in your eye stand out even more.

You can even apply your black mascara first for a deepening effect, and then add the navy as the second coat for brightening. Think of it as a highlighter, only for you eyelashes!

4. This next look is one that can be difficult for blue- and green-eyed women. With your brown eyes, however, this look absolutely shines!

It is quick, simple, and looks stunning year round. Choose a liquid eyeliner pen or gel eyeliner pot in a brighter, cool tone. Emerald, teal, sapphire, mint green and turquoise are good starter colors.

Line your upper lash line from corner to corner, giving yourself a wing on the outer corner. This wing can be as dramatic or subtle as you wish to suit the occasion. Then, apply some dark brown or black mascara and a nude lip color and you have stunningly bright eyes!

5.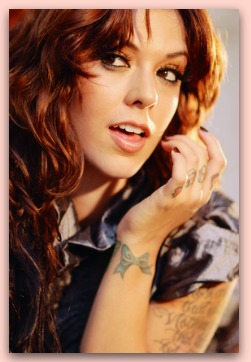 One of the best ways to light up your eyes and enhance your skin is to wear an illuminating lotion over your makeup.

This type of highlighter is simply a translucent cream filled with tiny particles of glitter.

This isn't the same tacky, glitzy body lotion your wore in your preteens. A good highlighter is very subtle and creates a dewy finish on your skin that makes you look radiant.

I wear Mary Kay's liquid illuminator. If you have dry skin like I do, you'll notice that it instantly gives you a moisturized, plump cheek.

Illuminator is great to wear on your cheekbones and underneath your eyes to conceal fine lines and make your skin look younger. It also does a great job of bringing light to your eyes!
---
---
Ten Beauty Items to Invest In

Now that we've explored some tutorials, you might be wondering exactly where to start. What makeup do I buy? Where do I find this makeup? And of course, how much is it going to cost me?

This list is comprised of the ten most important beauty products you should have in your makeup bag. Gather these ten items, and you'll be able to complete almost any makeup look.

Neutral Palette
This is one makeup item you really can't live without. If you want to have any hope of creating a natural, attractive look, you must have a palette of neutral shades. White, beige, taupe, auburn, bronze, and chestnut are shades that fit in this category.

Eyeshadow is the most expensive item on this list, but fortunately, a palette can last you a very long time. You don't want to be super cheap when selecting eyeshadow, because the lesser products will fade and crease very easily.

I recommend looking around Sephora or your favorite beauty counter for good options. Sephora only carries high quality brands, and the makeup artists there are always willing to help any girl needing advice.

If you'd like to order something quickly to get started on your new makeup routine, I recommend Stila's In the Light Shadow Palette.

It has ten different really pretty shades of eyeshadow and also comes with a Smudge Stick waterproof eyeliner. At $39, it is one of the better priced makeup artist palettes at Sephora.

Color Palette
If you are planning on doing any makeup styles beyond just the basics, you will also need a standard color palette of eyeshadows.

If you don't have any palettes already, I would suggest starting with the neutral one and buying a color palette when you are ready to experiment with your makeup more, as well as fork over a bit more cash.

Kat Von D's True Romance palette is a really great option to start with. Inside the compact there is a set of eight eyeshadows in complementary colors. At $34, the price is a bit steep but for a high quality product.

There are actually a couple of different True Romance palettes by Kat Von D. Choose one that has a variety of colors that will complement your eyes, and that you think you will be willing to play with.

If you're looking for a color palette that is a big brighter, Urban Decay's Deluxe Shadow box has nine shades in it and all of them are very lively and pretty.

It will definitely take a bit more experimenting to get used to these colors on your eyes, but once you do the contrast will be phenomenal.

Liquid Eyeliner Pen

Many women who haven't proceeded further than basic makeup techniques are often afraid to use liquid eyeliner. In some ways, I can certainly understand why.

Liquid liner can be very unforgiving, and it takes a fair amount of practice before it looks just right. However, once you master the application, the results can be stunning.

I specifically put liquid eyeliner pen on this list because they are much easier to use than other forms. Pen brushes provide a lot of stability and a perfect tip to create smooth curves and winged eyes.

I encourage you to branch out of your typical black liquid eyeliner and select a few other tones as well. If you've never owned a bright, springy green or blue liquid liner, now is the time to get one! Plum is also a great color to choose.

Bright liquid liners look fabulous against brown eyes. They are also a simple way to give you colorful, pretty winged eyes without having to fuss with layers of eyeshadow.