Glamour Eye Makeup Styles

Dramatic Eye Makeup Tips and Looks

Discover the best glamour eye makeup looks for bachelorettes, parties, costumes, and more. These pretty eye makeup styles range from classic to wild!
There is a proper occasion for just about everything in daily life, and beautiful eye makeup is no exception. Taking a night or two per month to dress up fab and glamorous with your clothes and your makeup will make you feel great and help you decompress at the same time.
Bold Eye Makeup Ideas
It isn't all that often that we can wear true glamour eye makeup and fit into the setting, but for a few occasions it can be an awesome experience.

Girls' nights out, bachelorette parties, costume parties, and the even a date can be good opportunities to take on new looks.

(Don't overdo it too much on the date, however. Save the truly bright and fabulous for clubbing with the girls!)

Here you can get started with one of the top four fabulous eye makeup looks for a lasting night out. Grab your heels and your powder brush ladies, glamorous nights can be few and far between!
Natural Eye Makeup and Bright Lips

The first look to try is one that is a classic, never-goes-out-of-style evening look. It is created by pairing light, pretty eyes with true red lipstick.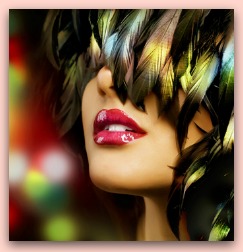 This look often looks more noticeable on women with light to medium skin tones, but will still look very classy and beautiful on women with medium to dark skin as well.

To make this look, either opt to go without eyeshadow or choose a neutral shade that is the same tone of your skin. A little shimmer will look pretty also.

You should avoid using eyeliner, or use only a small amount in a lighter shade.

For example, avoid using black eyeliner and instead choose one that is close to your skin tone such as a dark nude to light brown shade.

Add a small amount of mascara to make your eyes pop and finish off with a red lipstick that compliments your eyes and hair.
Shimmery Eye Makeup Designs

This second look is beautiful because it makes shimmer and sparkle the focal point of your face. These elements set apart glamour eye makeup from casual eye makeup.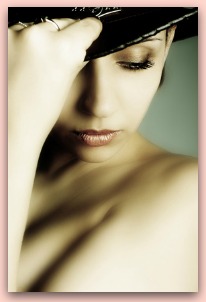 Like the woman in the photo, shimmery gold and neutral tones are used on the eyelids and brow bone, along with mascara, to create a mysterious pretty look.

A lipstick or liquid lipstick with a hint of metallic shimmer makes the look even more out of the ordinary.

Remember, though, this look is usually worn with a matte foundation and very little to no blush.

You want to aim for using neutral, yet shimmery, shades on both your eyes and lips for the best effect.
Cat Eye Makeup with Cascading Eyeshadow

This third look is a very pretty one, and can be worn on dates for a beautiful yet sophisticated look. To create this look, decide on a color that will complement your eyes, and then find three shades of that color to blend and fade over your lids.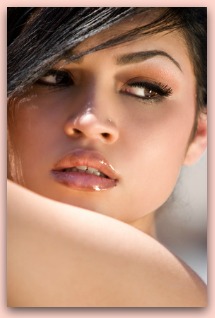 Blue eyes are often best complemented with golds, browns, and lighter greens.

Green eyes look beautiful with shades of purple and brown. Brown eyes are offset with almost any bright shade, including shimmery emerald, sapphire, and violet hues.

Once you have selected your three shades of one color, apply them blending from light to dark.

Lighter shades cover the lid and brow bone while darker shades should be reserved for the crease and lash line.

Use liquid eyeliner to create a winged eye and apply mascara for the final effect. Make sure to keep your lips light when creating a more dramatic glamour eye makeup look.
Crazy Eye Makeup Looks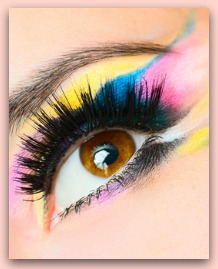 If you have a bit of experience applying various eye makeup styles, this last one can be really stunning.

Bright, bold colors that form a wing pointing upwards can be very fun and dramatic.

If you can pull off this type of application, you are almost certain to be the most glamorous woman there.

Select a few bright complementary colors to use, and top with mascara and false lashes for a great party look.
Return to How to Apply Eye Makeup from Glamour Eye Makeup Styles

Return to Makeup Tips Home from Glamour Eye Makeup Styles