Exotic Makeup Styles

High Fashion Makeup and Exotic Styles for the Ultimate Look

Ready to rock a dramatic eye makeup look? Exotic makeup is beautiful, mysterious, and unique, and one of the more difficult styles of eye make up to create.

Because of this, many women never attempt to wear it, leaving the high style for celebrities on the red carpet. However, if you want to be the one woman in the crowd who can show off this stunning look, read a little further as we discuss step-by-step how to create beautiful eyes.
Exotic Eye Makeup Looks
One of the most important things to know about exotic makeup is that, to pull off the look, you will need to have high quality makeup to start with. Drugstore makeup simply won't cut it for this style.
It won't provide the truest colors, real shimmery qualities, or the ability to stick to your eyelids for an entire evening.

If you're ready to show off your best skills, arm yourself with a few essentials in the best colors for your skin tone and hair color.
MAC is one of the best makeups you can buy if you want to create an exotic look. Their pots of pigment come in a variety of shades, and have some of the truest shimmering colors you will find anywhere. You can buy these at their website for $20 per pot, or take a look around on Ebay (they always have much better deals on new makeup).

Here are the makeup items you will need. Make sure that your colors are either complimentary or are from the same family, and always choose the right shades of eyeshadow, eyeliner, and mascara for your skin and hair.

Eye Primer
Very light base color
Medium shimmer color
Dark shimmer color
Complimenting eyeliner
Eye glitter (optional)
Faux lashes
Mascara
Eyeshadow brush
---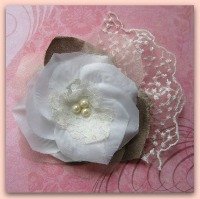 ---
Eye Makeup Techniques
Start with clean skin, and apply your foundation, concealer, and blush for the occasion. Apply your eye primer carefully to your eyelids and beneath your lower lash line. Once it is dry, you are ready to create an exotic makeup look!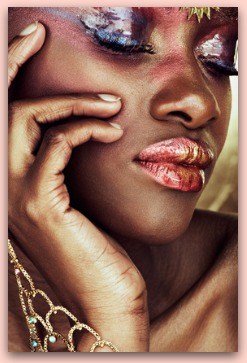 First, dip your clean eyeshadow brush in your base color, and apply it all over your lids, crease, and up to your brow bone, stopping once you reach your eyebrows. Make sure that you apply it lightly, but enough so that it creates a good base.
Then, use a tissue to wipe clean your brush. The next step is to dip your brush in your medium shimmer, and begin by lightly applying it from the inner corner of your eye with small sweeping motions outwards, covering your eyelid. Apply enough so that the color stands out but is not too dark. Wipe your brush clean again.
Next, put some of the dark shimmer on your eyeshadow brush. Starting at about the middle of your eyelid, lightly sweep the dark pigment along the last half of your eye, working into your crease as well. Taper this darker shadow outwards with small flicking motions as you reach the outside of your eye.
Now you will want to wipe your brush clean again, and spend a little bit of time really blending your colors together with small strokes. You're dark shadow shouldn't end abruptly at the outside of your eye, or start abruptly after your medium shade. Blend, blend, blend. You may need to apply a bit more of the darker shimmer to enhance the effect after you have blended.
Exotic Makeup Tip: How to Put On Eyeliner
The third step is to line your eyes, top and bottom. Begin at the very inside corner, and follow along your eye as close to the lash line as you can possibly get. Do the same for your lower lashes. If you have close set eyes and want them to appear wider, start your eyeliner at about the middle of your eye on top and bottom, following close to the lash line.
Make sure that your eyeliner tapers out slightly on the top and bottom to give you an exotic eye shape. Then, add just a touch of darker shimmer to your brush and use this to blend your eyeliner into your eyelid shades.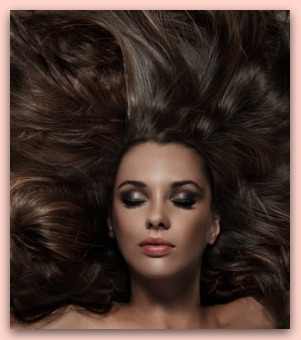 Add a little more, and carefully line your lower lashes with the dark shimmer powder staying as close as possible to your lashes. Blend it well into your lower eyeliner as well.
The next step is to apply your faux lashes to your eyes. This is optional, however to get the most dramatic exotic makeup look, it is a good idea to use these.

Apply the glue and gently press the lashes against your lash line, being careful to not smudge your makeup. Apply a little shadow over the top if necessary.
If you want, now is the time to add glitter to the top of your eyes. This should not be very obvious, and should be kept in a very thin line. Take a thin eyeliner brush and dip it in water, then squeeze out the excess.
Dip this brush in the fine glitter, and simply go over the top of your eyeliner and faux lash line until you have a pretty, flowing line of glitter. (Make sure that your glitter color matches your darkest shadow almost exactly!)
This is a beautiful way to cover any glue residue and make your look even more stare-worthy. Leave your lower lashes with just eyeliner and dark shadow.
Lastly, apply a brown or black mascara in careful sweeps to your top and lower lashes. Throw a few coats on there, and use a small eyelash brush or toothbrush to sweep away any clumps or flakes that show up. Now you are finished with your exotic makeup look. Consider misting a setting spray over your entire face to set your makeup, and enjoy your compliments throughout the night!
Back to Make Up Ideas from Exotic Makeup Styles

Return to Makeup Tips Home from "Exotic Makeup Styles"