Dark Eye Make Up Styles

Eyeshadow Tips for Mysterious Eyes

The best tutorial on how to use dark eye make up for a sexy look. Dramatic eye makeup will put you at the center of attention at parties and raves. Choose the best dark eye cosmetic for your skin and hair tone.

With enough practice, sexy dark eye make up is a look almost anyone can pull off. It is a beautiful evening style that will draw attention to your eyes and give you a mysterious look. Dark eyes are best worn after dark at parties, on dates, or whenever you're simply out on the town with some friends.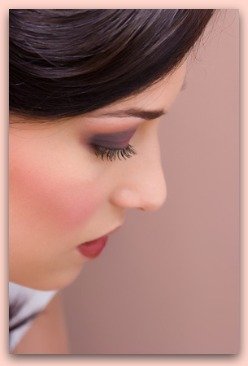 Dark eye makeup is a fun style to wear because you have the opportunity to try out a variety of colors as well.

Black and charcoal are classic smokey colors, but don't be afraid to expand and try metallic slate, violet, sapphire, or emerald.

These beautiful hues will offset your eyes and, with the right shaping methods, can create a truly exotic look.
Makeup Tips for Smokey Eyes
The first and most common sexy eye make up style is smokey eyes. Smokey eyes are very popular in Hollywood, and are worn by at least one famous celebrity at nearly every event.

They can be both sophisticated and mysterious, making them a top choice for a night out. Smokey eyes can be done with black or gray shadow, as well as dark green or purple. Navy blue is another eyeshadow shade that will make for a beautiful dark eye make up look.

Start with an eye primer to keep your makeup from sliding, and then apply your dark shadow from your lid up to your crease, and blend it well with a clean blending brush. Then, put a touch more eyeshadow on your brush and lightly line your lower lash line. This is the basic smokey shadow that surrounds your eye area.

Next, use a dark (preferably matching, or black) eyeliner to line your top lash line. Flick the pencil or eyeliner brush out slightly when you reach the outside corner of your eye to create a tiny wing. Then line your lower water line with the pencil.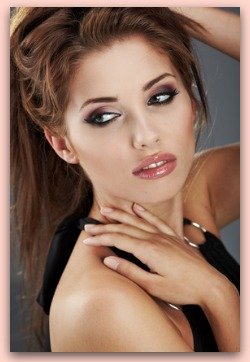 Lastly, take a smudge brush and gently smudge your eyeliner all over so that there are no sharp lines, and you have a truly smokey look. Top it off with black mascara, a sheer natural blush, and a nude lip color.
Dramatic Makeup Styles
Winged eyes are another beautiful style of dark eye make up that many women don't wear often.

It is a favorite among celebrity makeup artists for its alluring and sexy look, and can be seen in many celebrity photo shoots.

Megan Fox, Angelina Jolie, Marion Cotillard, and Katy Perry are often photographed with this mysteriously sexy look.

To create exotic winged eyes, start with an eye primer and cover with an eyeshadow that matches your skin tone, if needed. This is the time to play with colors like bright violet or emerald green eyeliner. Choose a color that will look pretty against your eyes. Liquid eyeliner, gel eyeliner pots, and eyeliner pens work very well for making winged eyes.
How to Put On Eyeliner for Sexy Styles
Take your pen or brush and make sure to keep it completely flat- horizontal- for the best application. Start at the very inside corner of your eye as close as possible to the lash line, and in very short strokes, begin to line your eye from corner to corner.

Once you have done this, place the tip of the brush or pen directly at the outside corner of your eye. Then, make a line less than a centimeter long that points from the corner of your eye diagonally toward your temple.

From the outer point of this line, gently connect back to the eyeliner on your eye, drawing a wing. Fill it in with color. This will take some practice getting it just right. When doing your other eye, look at your first completed eye as you apply the makeup to get both sides to match.

When you are doing your first couple of practice sessions, it may be easier to practice with a pencil, and then move on to liquid eyeliner once you've mastered the basics. Add some mascara and false lashes if you'd like a dramatic dark eye make up look, and you are ready to go!
Back to How to Apply Eye Makeup from Dark Eye Make Up

Return to Makeup Tips Home from "Dark Eye Make Up Styles"